Etalarea Gaia este o ghidare saptamanala a Mamei Pamant si a Divinului Feminin
pentru fiecare Arhetip Feminin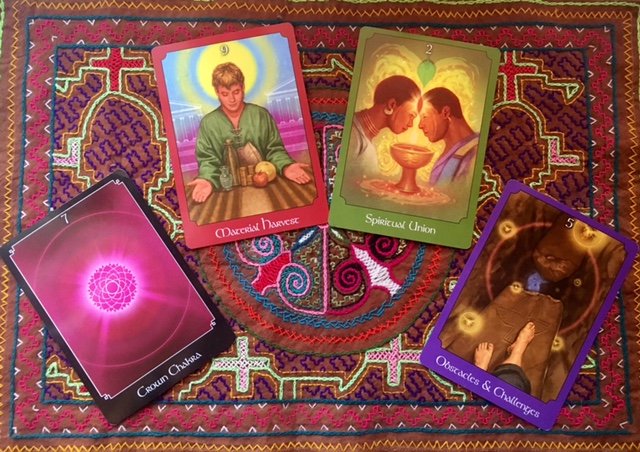 Imbratiseaza-ti Natura Ciclica!
Aliniaza-te cu Ritmurile Mamei Pamant si Energiile Feminine se vor echilibra si in tine!
Follow the Flow!
Follow the Moon!
Follow the rhythms of Mother Earth!

Bine ai venit, draga Sora!
Sunt Marilu Romedea, Moon Sister, si imi doresc ca prin aceasta ghidare sa te sprijin sa te reconectezi la:
– energia Mamei Pamant;
– energia si fazele Lunii;
– energia Divinului Feminin;
– natura ta ciclica.
Cum poti folosi acesta Etalare:
• Iti identifici Arhetipul Predominant si citesti ghidarea saptamanii pentru acesta.
• Arhetipul predominant iti indica natura ta. Dar asta nu inseamna ca nu le contii si pe celelalte. Dimpotriva, ele sunt toate prezente, doar ca pe celelalte le manifesti mai putin.
• Fiecare Arhetip, Faza a Ciclului Menstrual sau Faza a Lunii, reprezinta un Ritm al Mamei Pamant si al Divinului Feminin. Sunt 4 ritmuri ale fortei creatoare, care sunt si in interiorul tau.
Arhetipurile feminine:
Arhetipul tau predominant este cel indicat de pozitia Lunii in harta natala.
Daca nu stii pozitia lunii in harta natala, poti afla aici
• Luna in semne de Apa – Pesti – Rac – Scorpion – Arhetipul Fecioarei – Faza foliculara
• Luna in semne de Pamant – Capricorn – Taur – Fecioara – Arhetipul Mamei – Faza ovulatorie
• Luna in semne de Foc – Berbec – Leu – Sagetator – Arhetipul Magicienei (Seducatoarea) – Faza secretorie (luteala)
• Luna in semne de Aer – Varsator – Gemeni – Balanta – Arhetipul Batranei (Inteleapta) – Faza menstruala.
Aceste arhetipuri coincid cu momentele importante (initierile) din viata unei femei. Multe dintre ele vin cu traume/blocaje transgenerationale. Dar acum, Mama Pamant este infuzata cu o noua energie a divinului feminin, care permite vindecarea, echilibrarea si integrarea acestor arhetipuri.
Suntem influentate de ritmurile anotimpurilor, de ritmurile Lunii si de ritmurile ciclului menstrual. Femeile care traiesc impreuna au menstruatia sincronizata (Moon Sisters) si ele sunt sincronizate si cu fazele Lunii, pentru ca magnetismul Lunii misca apele din pantecele lor. In mod normal, ele au Faza Menstruala sincronizata cu Luna Noua – Arhetipul Batranei si au ovulatia la Luna Plina – Arhetipul Mamei. Sunt unele femei care au ciclul menstrual invers. Au menstruatia la Luna Plina si ovulatia la Luna Noua.
Mesajele Corpului: Ai menstruatia sincronizata cu Luna Noua sau Luna Plina?
---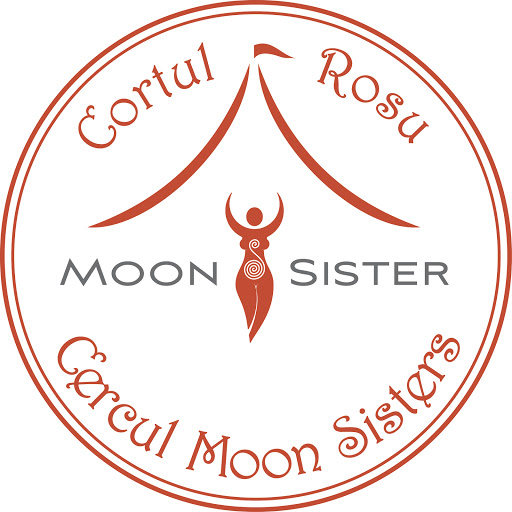 Surorile din Cercul #MoonSisters pot folosi etalarea si/sau in functie de:
• Faza Ciclului Menstrual: Pentru surorile care sunt in contact cu fazele ciclului menstrual, aceste ghidari pot fi de folos in faza in care se manifesta acel arhetip in ciclul menstrual;
• Faza Lunii a momentului: Unele surori au sincronizat ciclul menstrual cu fazele Lunii. Si cele care sunt la menopauza se pot ghida tot dupa fazele Lunii.
---

Ghidare pentru fiecare Arhetip
1. Arhetipul Batranei
Energie: Meditez la viitorul lumii!
Faza lunii: Luna Noua
Faza ciclului: menstruala
Zilele ciclului: 1-6
Elementul: Aer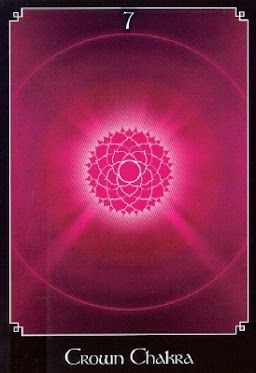 Tema saptamanii: Chakra Coroana 7
In aceasta saptamana esti invitata sa-ti accesezi cele mai profunde surse ale propriei intelepciuni, care se poate face prin Chakra Coroana. Elementul acestei chakre este "gandirea", culoarea este violet si cuvantele-cheie sunt "Eu Stiu". Aceasta Chakra este situata in varful capului si este denuminta "Lotusul cu o 1000 de petale" sau "Receptorul Luminii". Este centrul legaturii dintre tine si Univers, Infinitul si constiinta ta cea mai inalta, este conexiunea dintre intelepciune si perspectiva spirituala. Prin aceasta chakra se primeste lumina eterica si energia, care apoi sunt dispersate in toata aura pentru starea de bine. Esti sfatuita sa lucrezi cu aceasta chakra. Sa o echilibrezi prin meditatie, lucrul cu respiratia, yoga, vindecare spirituala, acupunctura, terapie prin culoare etc.
2. Arhetipul Fecioarei
Energie: Descopar lumea!
Faza lunii: Luna in Crestere
Faza ciclului: foliculara
Zilele ciclului: 7-13
Elementul: Apa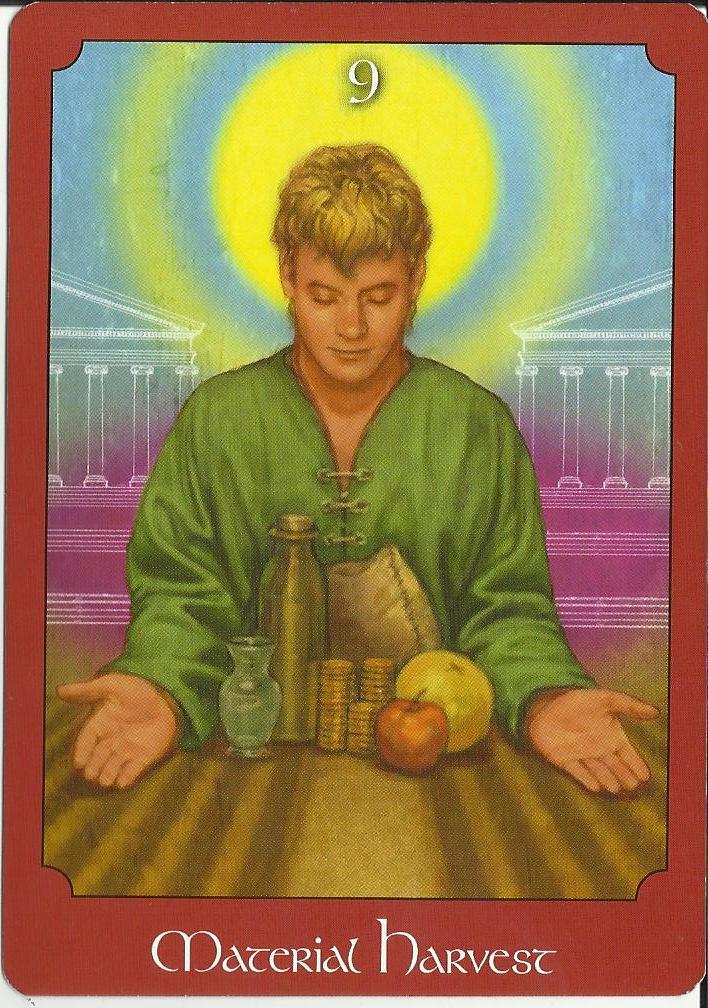 Tema saptamanii: Recolta Materiala 9
Una dintre Legile Universului este: ceea ce semeni, vei culege. Acest card afirma ca este timpul pentru a strange recolta la care ai lucrat, pe care o meriti pe deplin. Este o carte care reprezinta lumea fizica si se refera la stapanirea de sine, auto-suficienta, independenta, securitate si arta de a te bucura pentru tot ce ai muncit. Ai facut munca grea, ai invatat lectiile de pe drum si le-ai folosit pentru a prospera in toate ariile din viata ta. Numarul 9 inseamna, deasemenea, finaluri. Nu inseamna ca norocul se termina. Onoreaza-te, celebreaza terminarea unor proiecte. Acesta poate fi un moment optim pentru a privi inainte si de a folosi intelepciunea pe care ai castigat-o, pentru a te gandi la ce altceva ai dori sa realizezi. Poti lua in considerare investitiile inteligente si ideile care au un potential profitabil atat financiar, cat si pentru suflet. Felicitari pentru munca bine facuta!
3. Arhetipul Mamei
Energie: Socializez cu lumea!
Faza lunii: Luna Plina
Faza ciclului: ovulatorie
Zilele ciclului: 14-20
Elementul: Pamant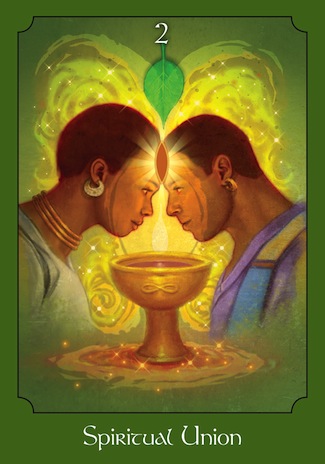 Tema saptamanii: Uniunea Spirituala 2
Legaturile si relatiile emotionale sunt oglinzi care ne arata cine suntem. In fiecare relatie care ne este draga ne putem regasi, iar starile noastre se reflecta inapoi. Pe masura ce crestem, din cand in cand, se cuvine sa facem un pas inapoi si sa examinam aceste relatii. Exista un schimb energetic egal? Ar fi benefic sa daruiesti mai mult sau sa primesti?
Daca in relatia intima ai atins deja acest echilibru, aceast card iti poate indica o aprofundare a intimitatii. In aceasta saptamana, impartaseste cu cei dragi si asculta in mod deschis si cu curiozitate, nu doar cuvintele lor, ci si limbajul nerostit al inimii lor.

4. Arhetipul Magicienei (Seducatoarea)
Energie: Transform lumea!
Elementul: Foc
Faza ciclului: secretorie (luteala)
Zilele ciclului: 21 – sangerare
Faza lunii: Luna in Descrestere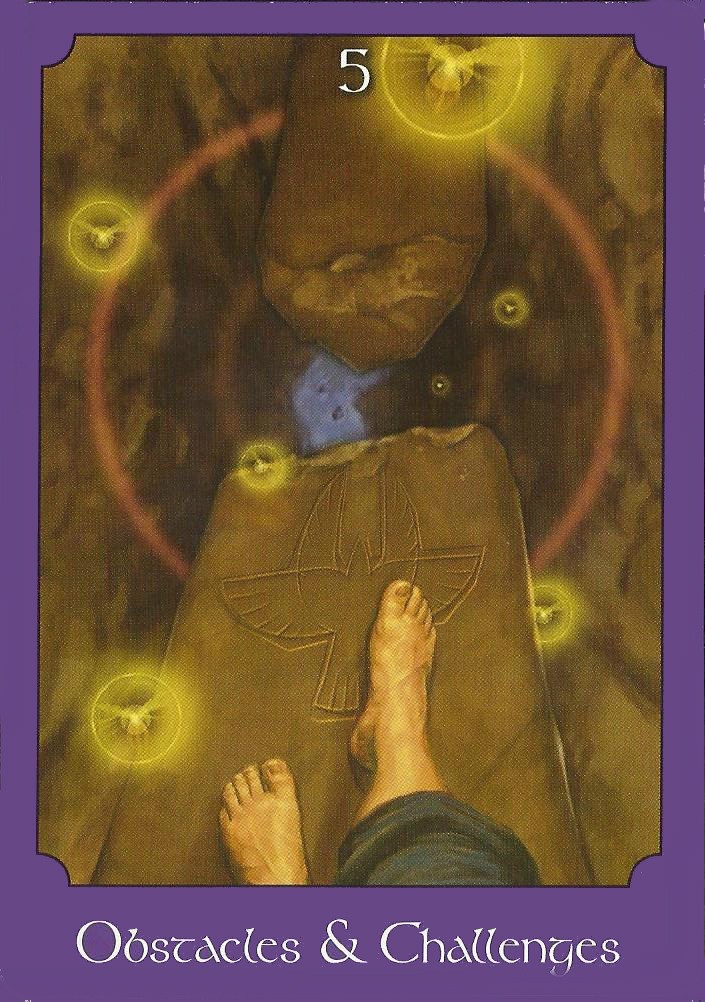 Tema saptamanii: Obstacole si provocari 5
Acest card reprezinta obstacole, luptele de putere si provocarile cu care trebuie sa te confrunti, pentru a le depasi. Aceasta saptamana poate parea a fi una dificila, dar daca deschizi ochii si vezi imaginea de ansablu, poti vedea unde lucrurile au mers prost. Nu te bloca, doar fa o pauza si fa un pas inapoi, pentru a obtine claritate. Observa unde sunt necesare ajustari sau ce decizii ar trebui schimbate pentru a putea sa mergi mai departe intr-un mod pozitiv.
Viata este despre a invata. Nu intra in rolul de victima! Ia cunostintele pe care le-ai dobandit din aceasta experienta, astfel incat sa le poti aplica pe viitor in situatii similare. Acest card mai apare atunci cand competitia se afla in jurul tau, fie ca este forma de competitie in afaceri sau in viata personala. Acesta este un timp excelent pentru a gandi creativ si pentru a te intreba: Cum pot sa stralucesc mai presus de toate celelalte? Cum pot sa ma exprim intr-un mod autentic si care ma reprezinta?
In aceasta saptamana avem Luna Plina – Citeste despre Luna Plina in Balata
Sa avem o saptamana frumoasa!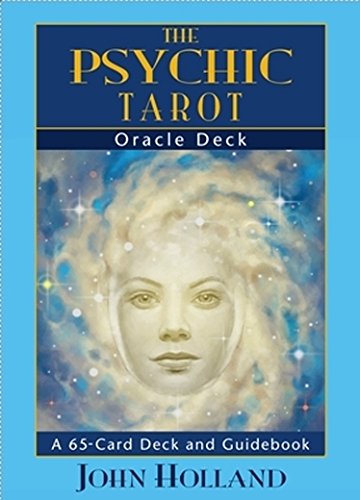 Citire intuitiva: Marilu Romedea
Cardurile folosite: The Psychic Tarot – John Holland
---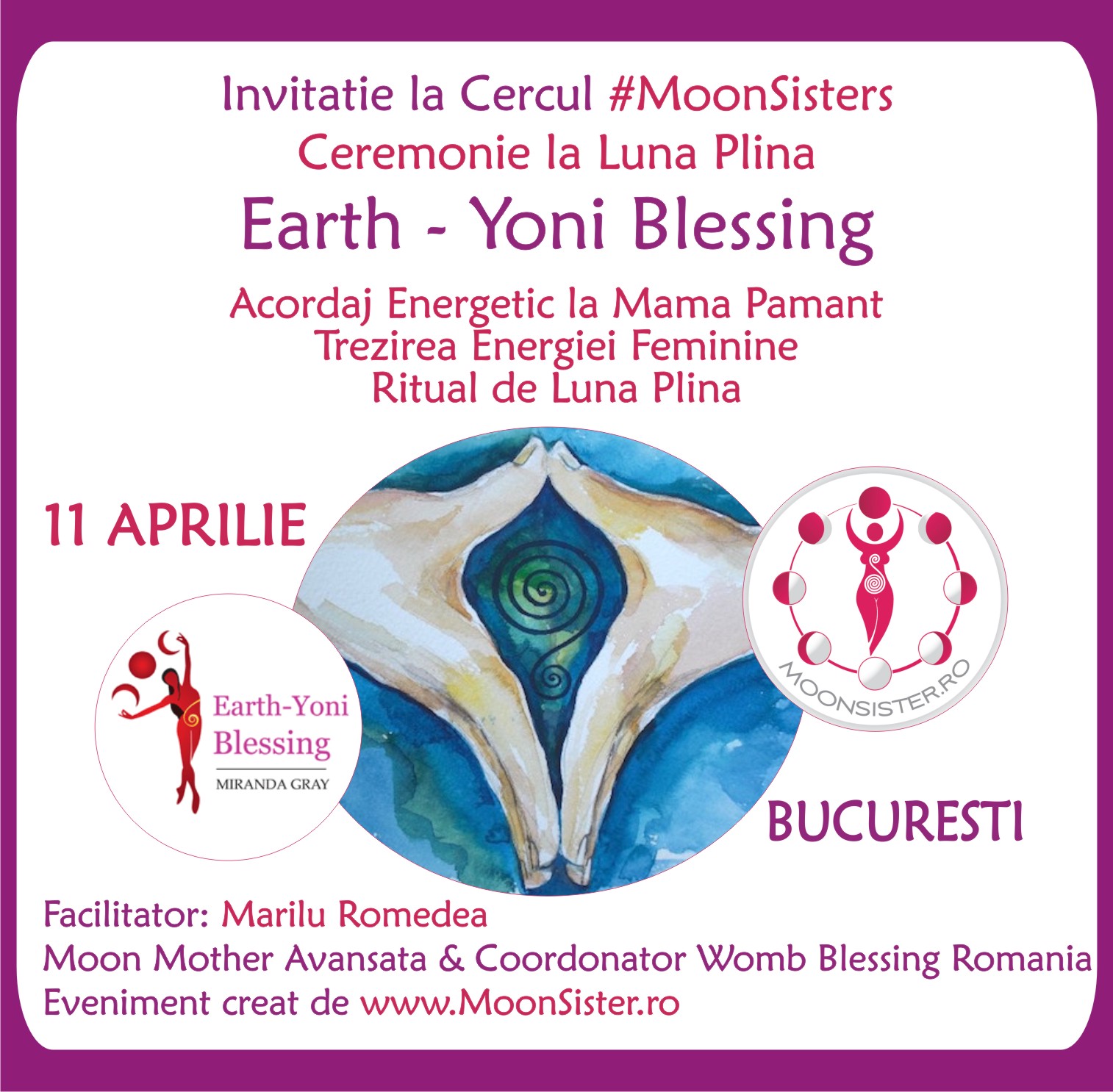 ---
Ciclurile
Femeile exploreaza realitatea in cicluri, fiind conectate cu magentismul si fazele Lunii si cu anotimpurile Mamei Pamant. Iar barbatii exploreaza realitatea linear (constiinta care patrunde misterul), dar sunt si ei influentati de fazele lunii si de toate femeile din vietile lor.
Multe dintre noi, pana acum, am adoptat acest stil linear si este timpul sa ne intoarcem la ciclicitate. Intr-o luna de zile, trecem prin fiecare arhetip feminin, manifestand 4 ritmuri diferite ale energiei. Suntem mereu schimbatoare si a venit momentul sa acceptam si sa ne imbratisam natura ciclica! Poti folosi aceasta ghidare in functie de Fazele Lunii, in functie de Fazele Ciclului Menstrual sau in functie de Arhetipul Feminin Predominant.
Un Ciclu – 4 energii – 4 ritmuri
4 anotimpuri – reprezinta Arhetipurile Mamei Pamant:
Iarna – Arhetipul Batranei
Primavara – Arhetipul Fecioarei
Vara – Arhetipul Mamei
Toamna – Arhetipul Magicienei
4 faze ale Lunii – reprezinta Arhetipurile Divinului Feminin:
Luna Noua – Arhetipul Batranei
Luna in Crestere – Arhetipul Fecioarei
Luna Plina – Arhetipul Mamei
Luna in Descrestere – Arhetipul Magicienei
4 elemente – reprezinta Arhetipurile Feminine – Se identifica Arhetipului Predominant in Harta Natala (pozitia Lunii in momentul nasterii):
Aer – Arhetipul Batranei
Apa – Arhetipul Fecioarei
Pamant – Arhetipul Mamei
Foc – Arhetipul Magicienei
4 faze ale ciclului menstrual – Arhetipurile feminine pe care manifestam intr-o luna de zile:
Faza menstruala – Arhetipul Batranei
Faza foliculara – Arhetipul Fecioarei
Faza ovulatorie – Arhetipul Mamei
Faza secretorie (luteala) – Arhetipul Magicienei
---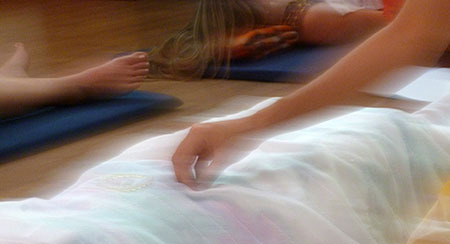 Sesiuni Individuale
In calitate de Moon Mother initiata de catre Miranda Grey, lucrez cu Energia Divinului Feminin si daca simti nevoia de un sprijin, te pot asista cu Pachetul Trezirea si Echilibrarea Energiei Feminine care contine: Terapia Vindecarea Pantecului (Womb Healing) si Acordajul la Divinul Feminin – Binecuvantarea Pantecului (Womb Blessing). Sau prin Codurile de Lumina ale Divinului Feminin si Mamei Pamant, care lucreaza direct in ADN + Harta Human Design. Programari la: marilu@moonsister.ro
---
Citeste si despre: