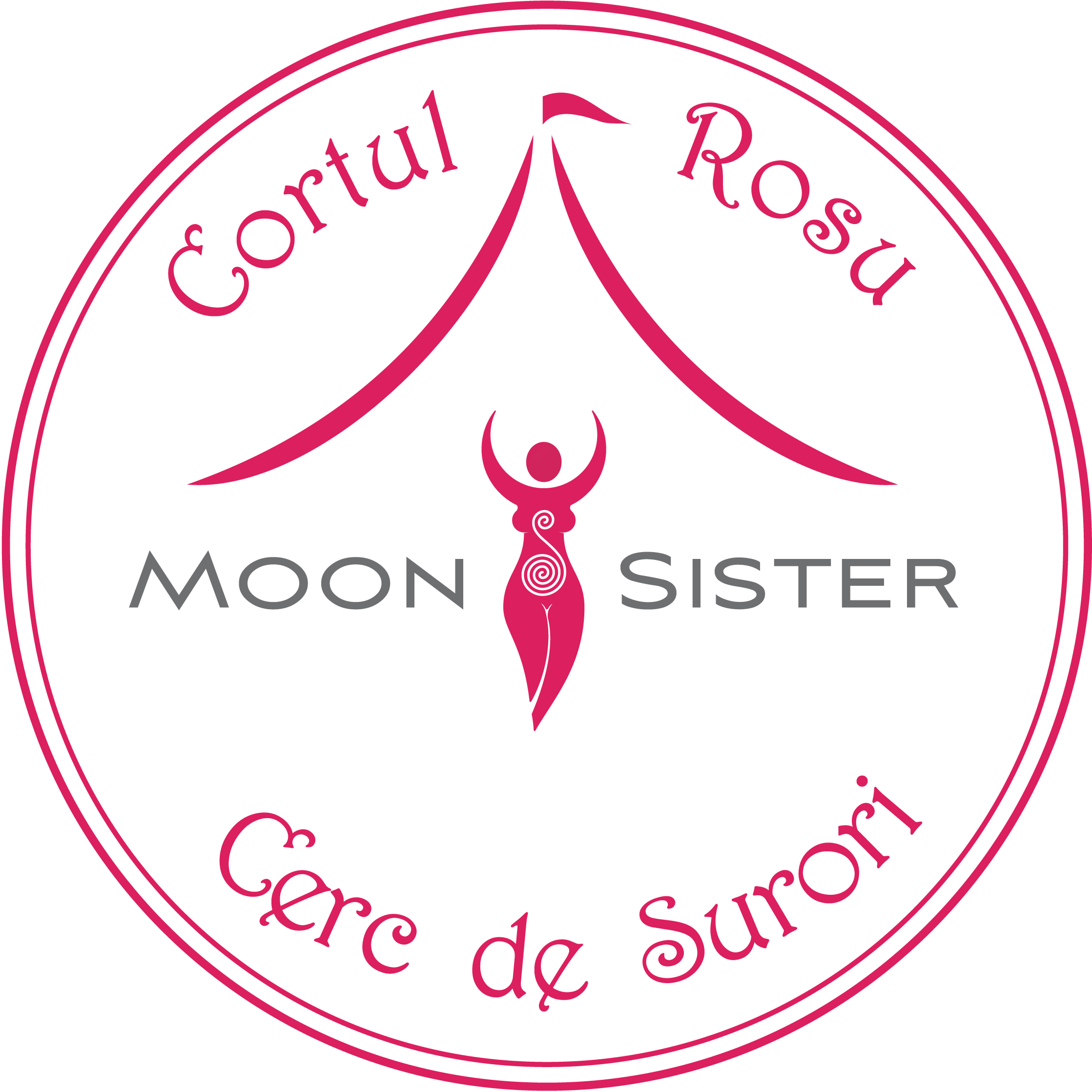 Cortul Rosu
Facilitator: Maria Luiza (Marilu) Romedea
Arhetip Feminin Predominant: Magiciana
Abordare: Shamanism feminin – Women's Rites of Passage & Mother Earth Medicine
Acreditari: Certificare "Red Tent Women's Circles Facilitator" si "Moon Mother".
Site: www.moonsister.ro
Facebook: https://www.facebook.com/moonsister.ro
Grup: Red Tent Romania 
Cortul Moon Sisiter are binecuvantarea miscarii "Red Tent Temple" si a platformei "The Moon Woman"
Frecventa intalnirilor: Lunar
Am sustinut primul Cort Rosu in 2010, in Bucuresti. Cand am inceput sa lucrez cu imbratisarea feminitatii mele, am realizat cat de important este sprijinul unui cerc de femei/surori si sa ai un spatiu sacru pe care sa il imparti cu ele.
In calatoriile mele, m-am conectat cu shamanismul feminin si am invatat direct de la bunicile pamantului sacralitatea energiei feminine. In acest an am primit certificarea de "Red Tent Women's Circles Facilitator" si am devenit si o "Moon Mother".  Pasesc pe calea Mamei Pamant, a Lunii, a Spiritului Apei si a Divinului Feminin. Am ales sa fiu in serviciul surorilor mele si sa le sprijin in calatoria lor spre ACASA.
Nu pretind ca toate femeile rezoneaza cu mine:) Am realizat ca fiecare se duce spre facilitatoarea cu a carui arhetip feminin rezoneaza, si asa este si benefic. Arhetipul meu feminin predominant este cel al Magicienei (Luna in harta natala este in zodia Leu – foc), si stiu ca atrag femei ca mine. Atrag in mare parte surorile care s-au protejat cu masca masculinitatii si acum sunt pregatite sa se elibereze de ea. Uneori pot fi prea intensa pentru femeile care manifesta mai mult Arhetipul Fecioarei (sunt acele femei foarte foarte feminine). Am inteles ca fiecare percepe feminitatea prin arhetipul ei predominant. Si din pacate le judecam pe celelalte femei ca nu sunt suficient de feminine. Noi de fapt continem toate aceste arhetipuri. Suntem si Fecioare si Mame si Magiciene(Seducatoare) si Batrane (Intelepte). Aceastea sunt ritmuri ale energiei creative. Fiecare femeie creeaza in ritmul ei.
Arhetipurile Feminine
Arhetipul tau predominant este cel indicat de pozitia Lunii in harta natala.
Daca nu stii pozitia lunii in harta natala, poti afla aici
Luna in semne de Apa – Pesti – Rac – Scorpion – Arhetipul Fecioarei – Faza foliculara
Luna in semne de Pamant – Capricorn – Taur – Fecioara – Arhetipul Mamei – Faza ovulatorie
Luna in semne de Foc – Berbec – Leu – Sagetator – Arhetipul Magicienei (Seducatoarea) – Faza secretorie (luteala)
Luna in semne de Aer – Varsator – Gemeni – Balanta – Arhetipul Batranei (Inteleapta) – Faza menstruala
Aceste arhetipuri coincid cu momentele importante/initierile din viata unei femei. Multe dintre ele vin cu traume/blocaje transgenerationale. Dar acum, Mama Pamant este infuzata cu o noua energie a divinului feminin, care permite vindecarea, echilibrarea si integrarea acestor arhetipuri. Arhetipul predominant iti indica natura ta. Dar asta nu inseamna ca nu le contii si pe celelalte. Dimpotriva, ele sunt toate prezente, doar ca pe celelalte le manifesti mai putin.
Fiecare Arhetip, Faza a Ciclului Menstrual sau Faza a Lunii, reprezinta un Ritm al Mamei Pamant si al Divinului Feminin. Sunt 4 ritmuri ale fortei creatoare care sunt si in interiorul tau.
Aliniaza-te cu Ritmurile Mamei Pamant si Energiile Feminine se vor echilibra si in tine!
Folow the Flow!
Identificand care este arhetipul tau predominant, iti poate fi mai usor sa-ti gasesti facilitatoarea si cercul cu care rezonezi.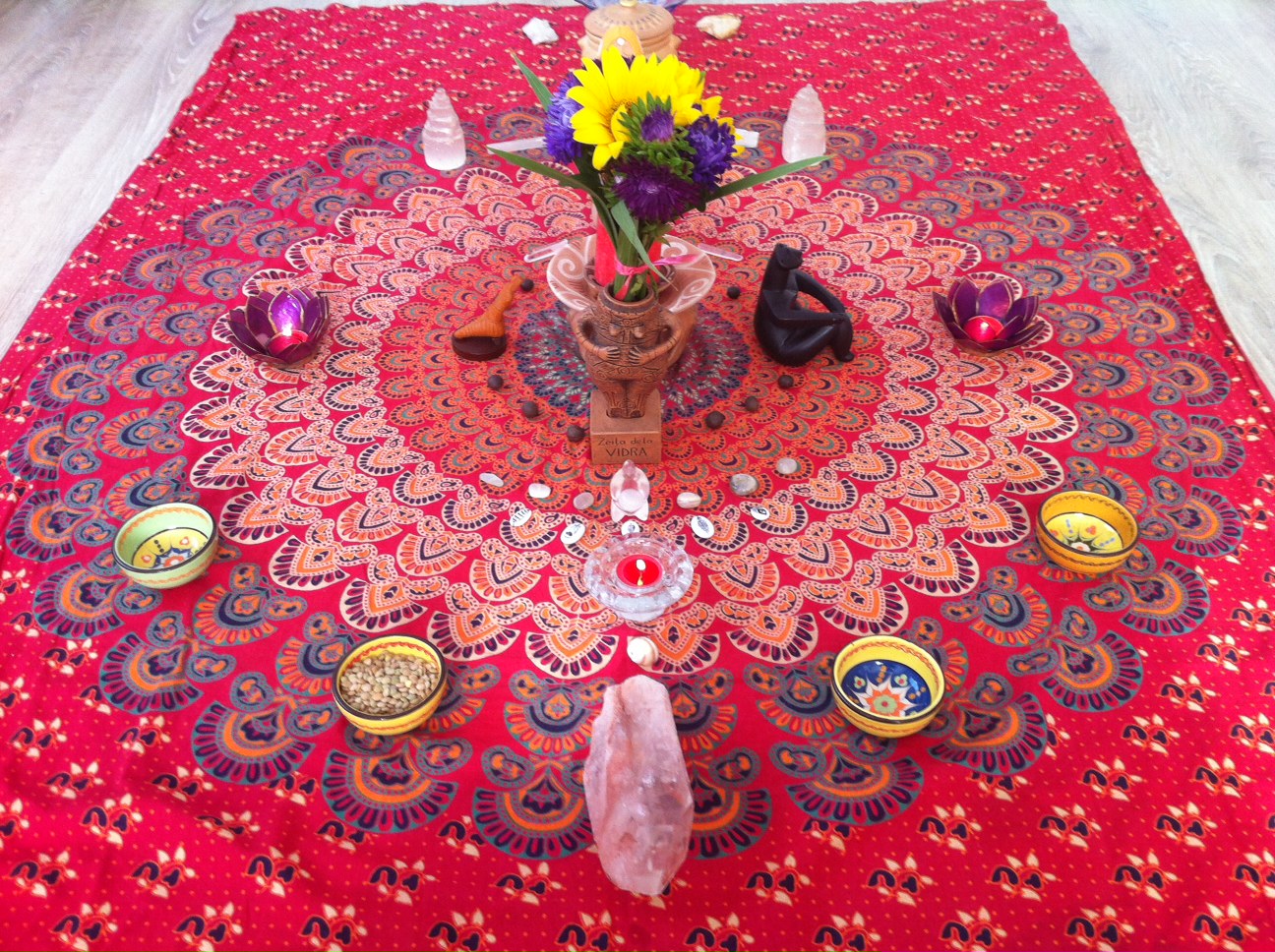 Cortul Rosu
Cortul Rosu este o cale a blandetei, prin care ne reconectam cu natura noastra autentica si cu Divinul Feminin. Aici ne dam voie sa ne intoarcem la noi. Traim niste timpuri in care femininul este sustinut sa fie vindecat dupa o lunga perioada traita intr-un patriahat abuziv. Mama Pamant ne cheama sa ne reconectam cu ea, cu corpul nostru si cu ciclicitatea naturii, a Lunii si a menstruatiei.
Noi suntem casa spiritului, noi avem puterea de a da viata, de a naste o lume noua. Suntem sprijinite sa ne reconectam cu Pantecul nostru. Sa nu il mai incarcam cu neincrederea in sine, cu neiertare si agresivitate. Este o lectie a iubirii de sine prin care invatam sa creem mai curat, mai autentic.
Ce o sa experimentam:
– Armonizarea grupului
– Cercul de Impartasire – In acest cerc ne descarcam de toate emotiile acumulate si ne pregatim pentru un nou ciclu.
– Ritual de Luna Noua – plantam intentiile pentru urmatorul ciclu – Focul Sacru
– Meditatie Tematica pentru energiile acelui moment
– Rugaciunea Apei
– Conectarea cu cercul de putere al surorilor
– Dansul Pamantului
– Curatari si activari prin Limbaj de Lumina (Light Language) – noile coduri ale Mamei Pamant si Divinului Feminin
– Shamanism feminin: toba shamanica, cristale, unelte de fumigatie, altar etc.
Cadou:
– Moon Calendar – Jurnal pentru ciclul menstrual
Logistica – ce sa ai cu tine:
– un vas de ceramica cu capac sau un bol – reprezinta Pantecul tau
– un cristal/amuleta pentru altar
– o statueta care reprezinta Divinul Feminin
– tinuta: as vrea sa va propun sa ne imbram in Ie, daca nu aveti ie va rog sa va imbracati in rosu si alb – fusta sau rochie – daca nu aveti, este ok orice culoare va aduce bucurie.
– un sal
– ceva de legat la ochi
– agenda + pix + 2 foi albe
– ceva de mancare, o gustare usoara sub forma de fructe, seminte etc., pe care o vom servi impreuna la sfarsitul meditatiei, pentru a impamanta energia.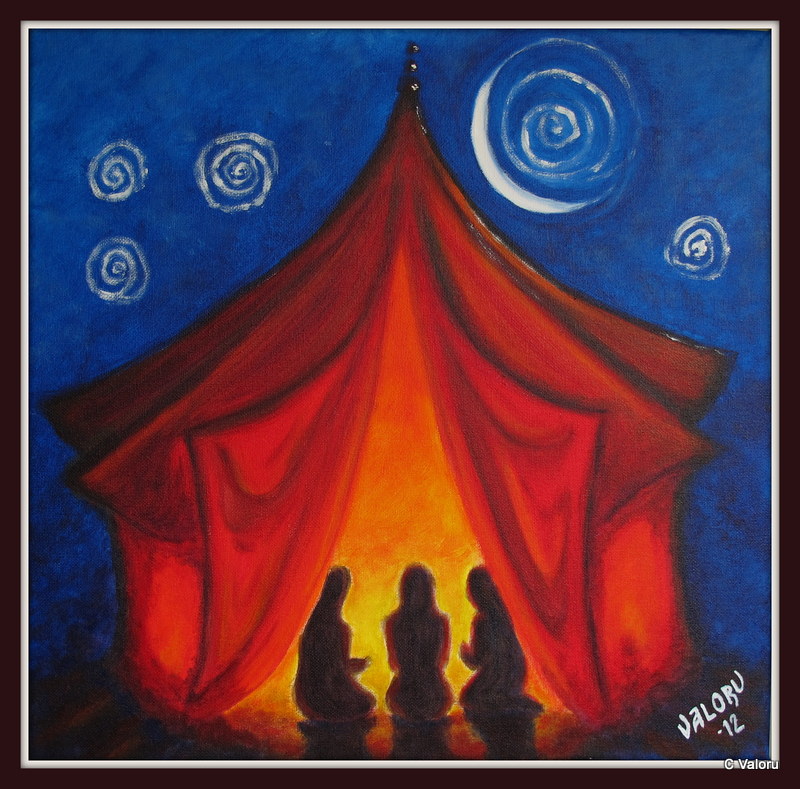 Acesta este un loc în care femeilor le este permis mai degrabă să fie, decât să facă în contiuu…
"Fiecare femeie aflată la menstruație cunoaște ce înseamnă să tânjești după acel moment de liniște și solitudine, în acea perioadă. Fiecare bucățică din ea și din sufeltul ei are nevoie de odihnă, în timp ce cultura în care trăim noi ne face să dăm înainte, indifferent de situație.
Cortul Roșu, Cabana Lunii, Adăpostul Lunii, așa cum mai este cunoscut și în culturile indigene din întreaga lume, este un loc de respirație pentru femeile pe stil vechi." – Deanna Lam
Corturile Roșii: ce sunt acestea?
Corturile Roșii sunt o mișcare globală a femeilor care se unesc pentru a găsi timp să fie exact acolo unde sunt, pentru a întâlni alte femei în comunitatea lor și pentru a se bucura de șansa femeilor de a-și împărtăși într-un mod mai profund decât o dac de obicei. Iar acest lucru se poate face într-o mulțime de feluri. În fiecare lună, femeile se invită în casele lor, în spații deshise sau publice și își petrec timpul împreună, pe durata întregii zile, după-amiezele sau serile.
Făcând acest lucru, ne luăm timp din viețile noastre atât de încărcate pentru a ne odihni, vorbi, împărți mâncare, pentru a lucra creativ, pentru a lua parte la alte activități care să ne satisfacă nevoile și să ne întărească acea conexiune cu Divinul Feminin. Ne adunăm în acest fel, în fiecare lună în care putem să fim prezente în propriile noastre vieți și în viețile pe care le împărțim cu ceilalți.
Conform Mișcării Corturilor Roșii, "Corturile Roșii din satele, comunele și orașele noastre sunt un spațiu pentru ca noi să onorăm ciclurile lunare și întreaga călătorie feminină. Iar Templele Corturilor Roșii oferă femeilor mai curând o stare de a fi, decât un mod continuu de a face ceva.
Cum ar fi să nu faci nimic preț de câteva ore? Sau sa vezi ce se întâmplă, atunci când nu planifici nimic? Ne găsim noi oare, mereu, o ocupație, ca să nu simțim? Unde anume ne ascundem în acest vârtej, ce ar putea vorbi inimii noastre atunci când, într-un final, ne oprim? Și cel mai important, pe măsură ce lumea din jurul nostru începe să se cutremure, noi punem bazele unei fundații de conexiuni locale ale femeilor înțelepte, împărtășind sprijin și înțelepciune femeilor din jurul, de-a lungul călătoriilor lor.
Cortul Roșu este un mod prin care femeile se recâștigă pe ele însele, simțind prezentul și venind la înaintare cu tot ceea ce ele sunt, oferind astfel un loc pentru incubare, visare, pentru  încetini și a se opri din planificat.
Toate femeile sunt binevenite!
Urmareste Calendarul Moon Sister pentru a vedea cand este urmatoarea intalnire!
Calendar – Luna Noua in 2016
10 ianuarie: Luna noua in Capricorn
8 februarie: Luna noua in Varsator
9 martie: Luna noua in Pesti -Eeclipsa de Soare
7 aprilie: Luna noua in Berbec
6 mai: Luna noua in Taur
5 iunie: Luna noua in Gemeni
4 iulie: Luna noua in Rac
2 august: Luna noua in Leu
1 septembrie: Luna noua in Fecioara – Eclipsa de Soare
1 octombrie: Luna noua in Balanta
30 octombrie: Luna noua in Scorpion
29 noiembrie: Luna noua in Sagetator
29 decembrie: Luna noua in Capricorn
Pagini oficiale pe Facebook:
– Grup – Red Tent Romania
– Pagna – Red Tent Romania
– Pagina – Cortul Rosu
Inscrieri: marilu@moonsister.ro
Te astept cu drag!
Maria Luiza (Marilu) Romedea
Facilitator Acreditat de Cercuri de Femei – Cortul Rosu
Moon Mother Avansata & Mentor-Conectarea cu Ciclul Feminin
Coordonator Womb Blessing Romania
Consilier de Dezvoltare Personala si Spirituala
Shamanism Feminin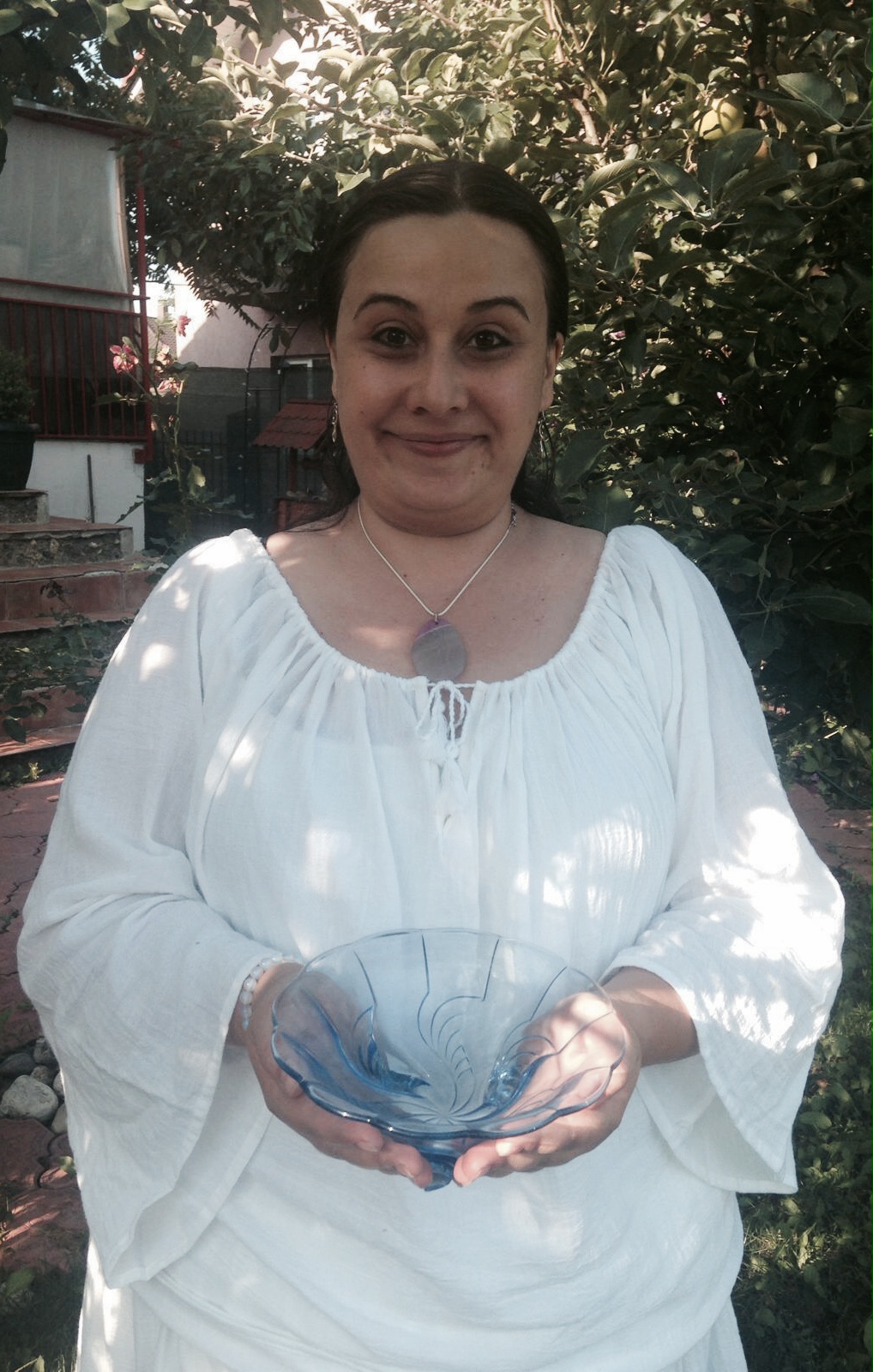 Despre proiectul Moon Sister si Marilu Romedea
Moon Sister inseamna Sora a Lunii – dar mai reprezita si o sora cu care ai menstruatia sincronizata. (ENG: Moon Sisters – Girls who have periods at the same time).
Platforma www.moonsister.ro este dedicata energiei feminine si shamanismului feminin. Imi doresc sa lucrez prin terapiile si workshop-urile create cu toate surorile care simt nevoia de sprijin pentru trezirea energiilor feminine adormite. Acest lucru este posibil prin terapii precum Vindecarea Pantecului, Binecuvantarea Pantecului si Limbajul Luminii si/sau prin workshop-urile Calatoria Eroinei si Dansul Pamantului. Lunar, mai sustin Cercuri de surori la Luna Noua (Cortul Rosu) si la Luna Plina (Binecuvantarea Pantecului Mondiala – Trezirea si Vindecarea Energiei Feminine). Alaturi de alte surori, mai organizez si "O Zi in Cortul Rosu", in care am diverse invitate.
Am devenit Facilitator acreditat de Cercuri de Femei – Cortul Rosu – "Red Tent Women's Circles Facilitator". Am fost initiata de catre Miranda Gray (World Wide Womb Blessing), si am devenit o Advanced Moon Mother, Mentor si Coordonator Womb Blessing Romania.
Sunt pasionata de Shamanismul Feminin, in ultimii ani am calatorit si am invatat calea pastratorilor pamantului. Am lucrat cu Nativii Americani din tribul Lakota, cu un preot din tribul Kogi din Columbia, in Brazilia am invatat mult despre Mama Pamant si Energiile Feminine lucrand si cu altii nativi din Columbia si Africa.
Este timpul ca femeile sa se reconecteze cu pamantul si cu sacralitatea corpului lor, ele fiind cele care nasc o noua lume. Nu pretind ca sunt un shaman, folosesc aceste unelte pentru ca rezonez cu ele si pentru ca ele fac parte din cea mai veche religie de pe pamant – conexiunea omului cu natura.
Organizez "Ritualuri de Trecere Feminine – Women's Rites of Passage". Aceste Ritualuri marcheaza initierile din viata unei femei si ofera sustinere si pentru momentele grele. Se fac ritualuri de trecere pentru: prima menstruatie, cand devii sotie, mama si cand se iese la menopauza. Se mai fac aceste ritualuri dupa terminarea unei relatii, dupa o depresie etc.
"Intalnirile din cortul rosu ma ajuta sa ma cunosc mai bine, sa ma accept asa cum sunt, sa inteleg mai bine femeile si barbatii, sa ma maturizez si sa devin mai responsabila. Marilu asigura un cadru intim, placut, plin de umor, in care ma simt ca acasa, ma simt in siguranta si in care ma pot exprima cu usurinta."
Hermina Mayer